Belvedere Homes
near Grado / Italy / North Adriatic Sea

Mobile homes
situated on a 4 star camping village, Belvedere Pineta

Families with children are very welcome!
up to 6 persons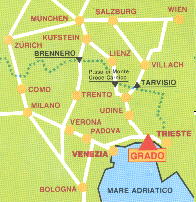 "BELVEDERE HOMES"
Is situated south of Udine, between Trieste and Venice. 5 kms away from both Grado and Aquileia.
Is especially tailored for families with children, who want sun, sea, sand and relaxation.
Only 500 kms from Munich in Germany to Belvedere Pineta. Most of the journey is motorway except for the last 20 Kms to the coast.
A recreational holiday for a lazy time or visit the many historical places of interest nearby. In 1 1/2 hrs, (direct by train) you can arrive at the Grand Canale in Venice.

Belvedere Pineta offers a private beach edged by gently lapping waters of the lagoon, very safe for small children. A kiosk provides snacks, drinks ice cream etc. For hire are paddle boats, umbrellas and loungers. The sandy beach is cleaned every day (in 5 kms you can reach Grado where there is open sea).

Of the campsite, for your use
A private beach (no charge)
One large swimming pool and a smaller paddling pool for children
Six tennis courts.
Mini golf and table tennis.
Games room with billiards, game machines etc.
Two playgrounds.
Washing machines and tumbler dryers can be hired. .
Pizzeria/restaurant (also take-away services)
In high season, an organized animation team for your entertainment.
On site supermarket
Larger supermarkets nearby
and much more.

Belvedere Pineta is a natural forest of mature pine trees where pheasants, hares and many rare birds can be seen. All mobile homes are no more than a few minutes walk from all facilities and beach.
Only a 25 minutes drive to Slovenia, which is worth visiting.

Places of interest: "AQUILEIA" was one ot the largest roman settlements in Italy. The Basilica church dates back to the year 500 A.D. and has beautiful mosaic floors.
"GRADO" , affectionately known as "Mother of Venice". Grado is a quaint island town connected to the mainland by road. Unspoilt by tourism, there are many shops, restaurants, bars, supermarkets and a promenade to browse along. Grado is famous for its spa clinics and is also steeped in history.

"CERVIGNANO": The inland town of Cervignano is 10 minutes from Belvedere Pineta with large supermarket chains (Lidl, Interspar etc)

"TRIESTE": The coast road to Trieste is breathtaking. Views of the Miramar Castle as you approach Trieste, is alone worth the drive. The city has changed hands many times, bordering with Slovenia (Passports and green card for car insurance required for Slovenia).




Mobile home holidays

A mobile home is a very large caravan for up to 6 persons (4 adults and 2 children).

They are 8 meters long and 2,50 meters wide consisting of
a double bedroom, beds 180cm long for adults
bunk beds for 2 children 170cm
Sleeping areas for 2 adults in the living room
fully fitted kitchen with sink, cooker, fridge etc.
running hot and cold water, plumbed in toilets and showers
Every mobile home has garden furniture, BBQ and pavilion. You can park your car directly by your home.

The owner, Anna Mawer, who has lived on Belvedere Pineta for 20 years will be there to greet you on arrival and aid you with anything which will make your holiday more pleasurable.



Startseite infoservice24.com
Impressum infoservice24.com &nbsp Datenschutzerklärung infoservice24.com